Antique Fireplace Restoration

Hastings and East Sussex
If you are looking for antique fireplace restoration services, you know the value of period fireplaces and surrounds. New or old fireplaces are more than a source of heat; it's the focal point of a room, where families and friends gather to share stories and create memories. We also have talents in restoring all aspects of traditional gas fires, such as stoves, chimneys, surrounds, front bars, broken parts, etc.
Sussex Fireplace Restoration specialises in restoring traditional antique fireplaces in East Sussex and beyond. Our restoration service provides specialist skills in renovating period fire surrounds, stoves, inserts and slate hearths to their former glory. We are available to North London, South London and the surrounding areas.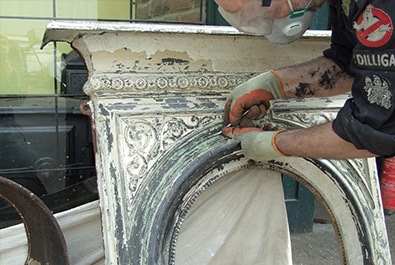 Some of our workshop services include:
Removing many layers of paint
Re-sanding and polishing marble
Repairing cracks and chips
Re-affixing loose sections and fragmentsReplacing missing sections
Re-carving damaged or missing carvings
With over 30 years of experience in the fireplace trade, Sussex Fireplace Restoration can authenticate original pieces. We can provide advice on an appropriate style of replacement, if necessary, that will be historically sympathetic to the property and its construction. Rest assured, our staff carve, complete shot blasting, construct and paint safely.
We have experience in working with the following styles, among others:
Tudor (1485 - 1603)
William and Mary(the 1690s - 1702)
Queen Anne style (1702 - 1715)
Georgian (1714 - 1830)
Regency (1811 - 1820)
William IV (1830 - 1837)
Victorian(1837 - 1901)
Art Nouveau (late 19th Century)
Art Deco (early 20th Century)
Modernist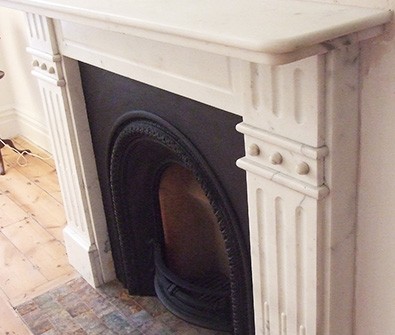 We have completed many successful renovation contracts in various architectural styles and historical designs across a broad range of premises, from traditional Grade 1* listed buildings to new-build properties on building sites and private residences.
Our expert craftsmen have many years of experience in the workshop replacing missing plaques, capitals and cornice, etc., in limestone and statuary marble, from photographing or casting a mould of an existing piece.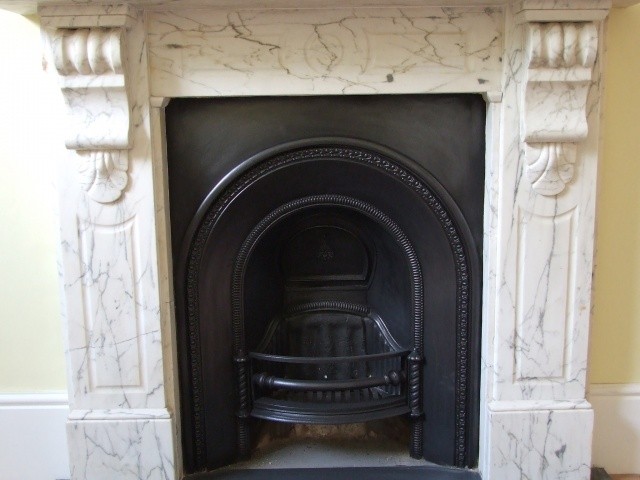 We can also supply and install a new hearth in slate, marble or stone, sympathetic to existing fireplaces or into living spaces. It can be a solid one-piece hearth or a multi-part hearth; we will be more than happy to advise you on the most cost-effective option or installation.
We are capable of coordinating with project managers and site agents as well as working to architect's draw.
We can coordinate with project managers and site agents and work on the architect's drawings and Building Works Schedules.
We can supply complete method statements and risk assessments for contracted work if required. ings and Building Works Schedules. If required, we can supply full method statements and risk assessments for contracted work. All of our work is completed to the highest standard, using only quality materials sourced from reputable manufacturers.
Our job at Sussex Fireplace Restoration Ltd UK is completed to the highest standard, using only quality materials sourced from reputable manufacturers.
Contact us today via phone or email to get straight through to one of our experts or contractors. We'll provide free quotes to suit your budget and more information. Fitters can also offer a few tips on preventing damage to the restoration work of most fireplaces in the future.

Fireplace Restoration Near Me
If you are looking to restore your antique fireplaces to their former glory, please give us a call.
It may be that your fires have experienced or received plenty of wear and tear, rusting, old paint or general damage over the years, our trained and experienced fitters have the skills and talents to build and shape them back to their original state.
Alternatively, send us an email via our contact form, and we will get in touch as soon as possible to discuss your plans, designs, installations and requirements.

Hastings
Eastbourne
Tunbridge Wells

Brighton
St Leonards on Sea

Eastbourne
Period Fireplace Restoration Specialists

Victorian Fireplaces
Victorian fireplaces are a stunning centrepiece in any room in a Victorian house.
They are enhanced further as a period feature when they work and provide an excellent form of heating. Early and mid-Victorian fireplaces are usually beautifully ornate, with several intricate designs focusing on a more floral pattern to their casting.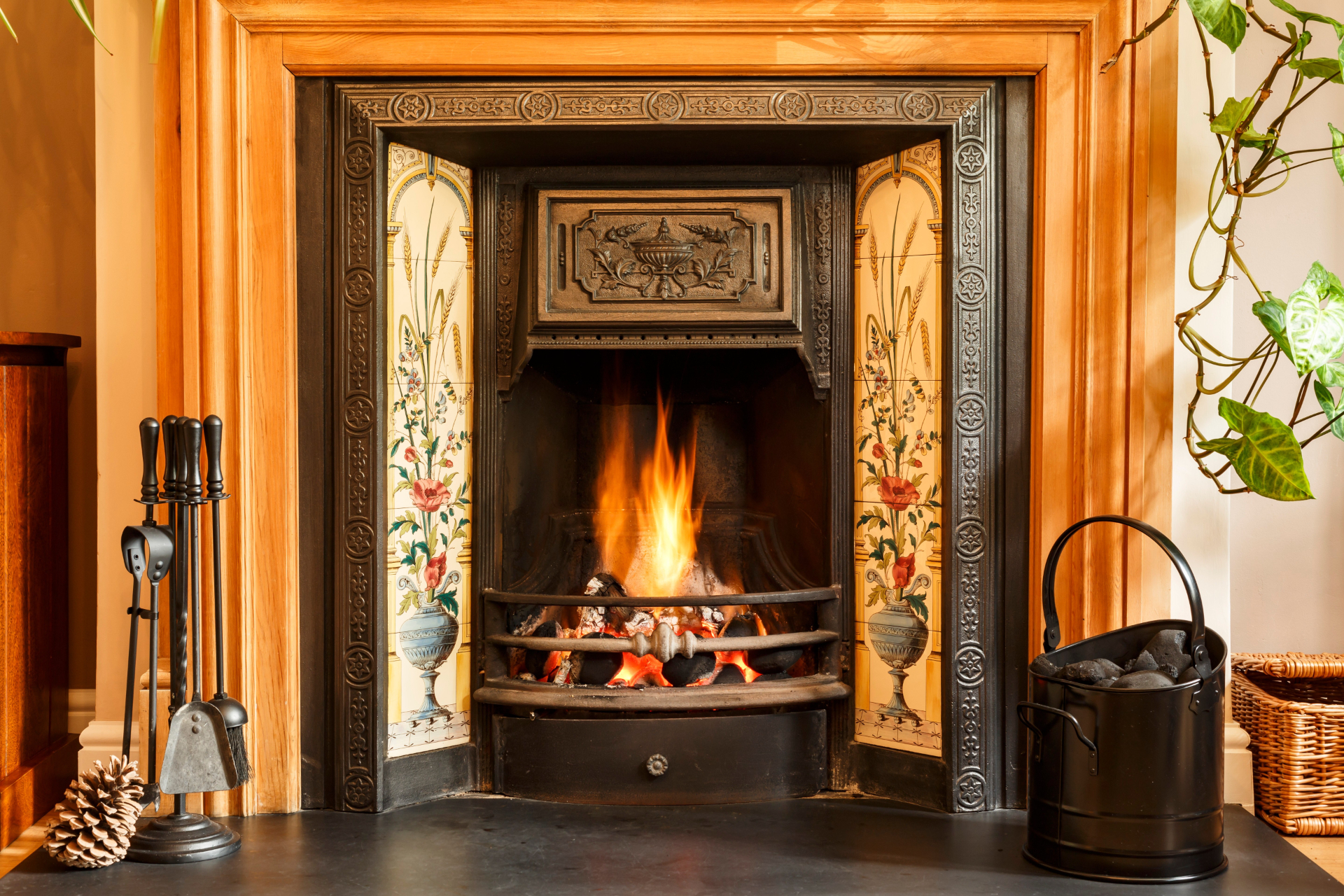 If your Victorian fireplace needs restoring, you can decide if this is for decorative purposes or to use as a heat source. Our team of highly skilled specialists can restore your fireplace to its former glory, providing excellent work every time.
Edwardian Fireplaces
Fireplaces that people produced in the Edwardian era were usually made from cast iron, and as the Edwardian period progressed, the fireplaces became slimmer and taller.
The decoration on these fireplaces became more straightforward and less complicated than the designs from the late Victorian period. In the mid-Edwardian era cast, iron combination fireplaces had the addition of tiles, and they became prevalent.
Another popular style during the Edwardian era was one using a large range of locally sourced arts and crafts materials, including tiles, cast iron and brick.
Vast surrounds also became popular during the Edwardian era, especially wooden ones with large mirrors. Whatever style of Edwardian fireplace you have, our highly skilled restorers will have it looking like a thing of beauty once more.
Georgian Fireplaces
Georgian fireplaces from this era were those of grandeur and were usually designed as a focal point for the room. The Georgians achieved this stylish look using grand fire baskets that created much larger openings for the fireplace.
They also had cast iron register grates. Plenty of these ornate Georgian fireplaces also had beautiful hand-carved designs that were unique.
Stunning fireplaces from this era are an excellent depiction of the Georgian era. Fully restored fireplaces will add a unique sizeable focal point to your room.
Marble Fireplace Restoration
Marble fireplaces are timeless and still hold their attraction. They are elegant and add a beautiful focal point for your room without detracting from other items you have in your room. They are, however, extremely susceptible to damage and staining.
Therefore they do need a lot of care and attention. If you have a damaged marble fireplace that needs repair, we will carefully remove it by separating the individual pieces and restoring fireplaces entirely in our workshop. We will then refit it in your new home to complete the restoration and repairs.
Fireplace Surrounds
Antique fireplace surrounds and surfaces come in different materials and designs, from cast iron fires, timber and wood to granite, marble surrounds and other natural stones.
Some of these fireplaces have ornate designs or tiles and have differing degrees of repair and restoration. We are happy to give you a free quote for any repairs or restoration projects you might have.
Staff offer services of consistently high standards, and we aim to please you and the family with glorious looking fireplaces to suit your home.
Damaged Fireplace Tiles
If your traditional antique fireplace has damaged tiles, we can use our specialist skills to repair them.
In some cases, if the damage is so bad and they are beyond repair, we can source antique tiles to replace them.
These sourced tiles would make your fireplace look beautiful again for pictures.
Refurbishment Services
Our fireplace restoration services are available in Sussex and the South East areas. Whether your fireplace is solid fuel, gas or decorative, our restoration work and a shiny primer will show its natural beauty and highlighted finish ready for pictures after the reveal.

Sand Blasting
Sandblasting is the ideal way to entirely remove all the existing layers of paint from your cast iron fireplace.
It is a process that enables us to take the fireplace back to the bare cast iron; this stage is the first restoration process and the starting point for your fireplaces new finish.
If we were to wipe and wash down the materials, it would take an incredibly long time; however, sandblasting is an aggressive way of getting rid of the many layers at a fast pace to quicken the process.

High-Temperature Heat Proof Spray Painting
When the cast iron fireplace has been sandblasted, we apply a high-temperature matt black paint to the fireplace and add six fine coats.
Such paint is heat-proof to 600 degrees Celsius and will retain the detail and definition of the fireplace.

Metal Polishing
Our highly qualified craftspeople are all experts in fireplace restoration and can complete an array of polished styles for your fireplace.

Black Leading
We use the best black lead replacement product on the market to restore your fireplace, taking it back to its original cast iron fireplace features.

Replacement Parts
We have over 30 years of experience and are more than competent at authenticating original fireplace pieces. You can have peace of mind that your fireplace will be historically fitting to your property.

Painted Finishes
Once your decorative fireplaces have been fully restored, we have a range of different paint finishes to complete your fireplace, making it a thing of beauty once more.

Powder Coating
If you have a decorative fireplace, we can give it a beautifully smooth and flawless finish by using our special powder coating.

Stone Restoration
Our highly-skilled stonemasons can restore slate and marble to their original beauty.

Suppose you require any advice or information regarding antique fireplace restoration in Hastings, East Sussex and South London areas. Please feel free to contact us on 01424 571018. Alternatively, you can send an email by completing our contact form.